The world is a book, and those who do not travel read only a page.
- St. Augustine
This is how Mary starts the About page on her blog, very appropriately called "The World is a Book". Mary has a serious sense of wanderlust and travels with her kids aged 6 and 9 in tow. Four continents and 30+ countries later there are still blank pages in the book, waiting for a new story. She and her family will continue to travel as she aspires to teach her kids that there is a whole world waiting for them to learn from and discover.

I am very glad and honoured to feature Mary as a new guest blogger on Act of Traveling! Mary published posts about local cuisines and how she teached her children to eat all that "strange" food. I guess she has become a true expert and that's why I decided to ask her to tell us her secrets! Here they are: 
One of many parents' concerns when traveling with kids, especially to a foreign country, is food. Anxieties such as what to feed the kids, getting sick and how to introduce the local cuisine are common. I had those same concerns too when we first traveled with our kids. But, my six and nine year old now look forward to eating in foreign countries and learning about new food.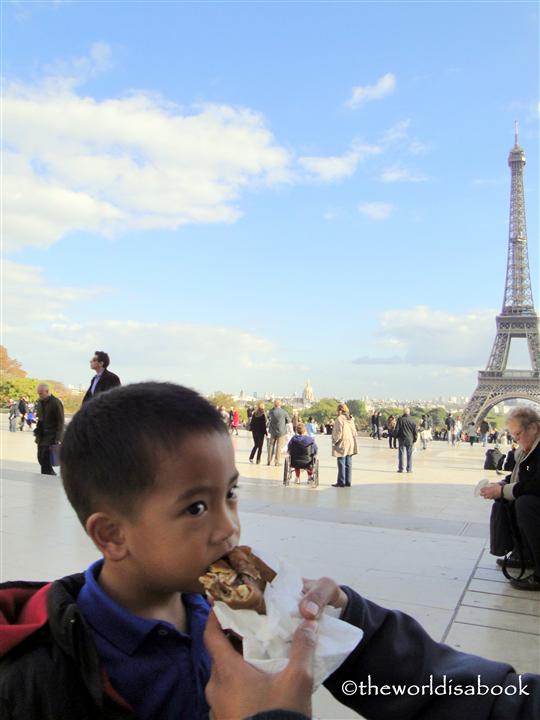 So, how did we feed our kids with the least resistance, enjoy the experience and try out the local cuisine? It wasn't always easy but with a little preparation and some lessons learned over the years, it has gotten more effortless. While this will not work with everyone, I'm sharing some of our methods and lessons we've learned along the way which worked with our kids.
I believe you can eat in most places abroad safely. We've followed the advice of "If you can cook it, boil it, or peel it, you can eat it – otherwise, forget it." It has worked so far. We've also focused on familiarity, routine and some compromise thrown in during our trips.
Familiarity
Kids need some varying degrees of familiarity in a foreign place. Before a trip, we familiarize our kids with the variety of food they will see and taste. We read books on the countries we've visiting and the Internet also offers a wealth of information. They may even find something to be excited about.
Visit your local Little Italy, Little Tokyo, Chinatown, etc. and have them try out some of the food. This way they'll know what to expect and at least be exposed to the local cuisine even for a bit. I also have two somewhat picky eaters but luckily, we've exposed their palates to enough food variety that at least they are willing to try new things. We're also fortunate to live in a melting pot region like Southern California that we are able to introduce them to all the different worldwide cuisines.
If you don't have any of these areas, try to cook the food (or a variation of it) at home and ask for their help in preparation. Foreign foods sections at most supermarkets are fairly common nowadays. Food festivals are also a great way to sample.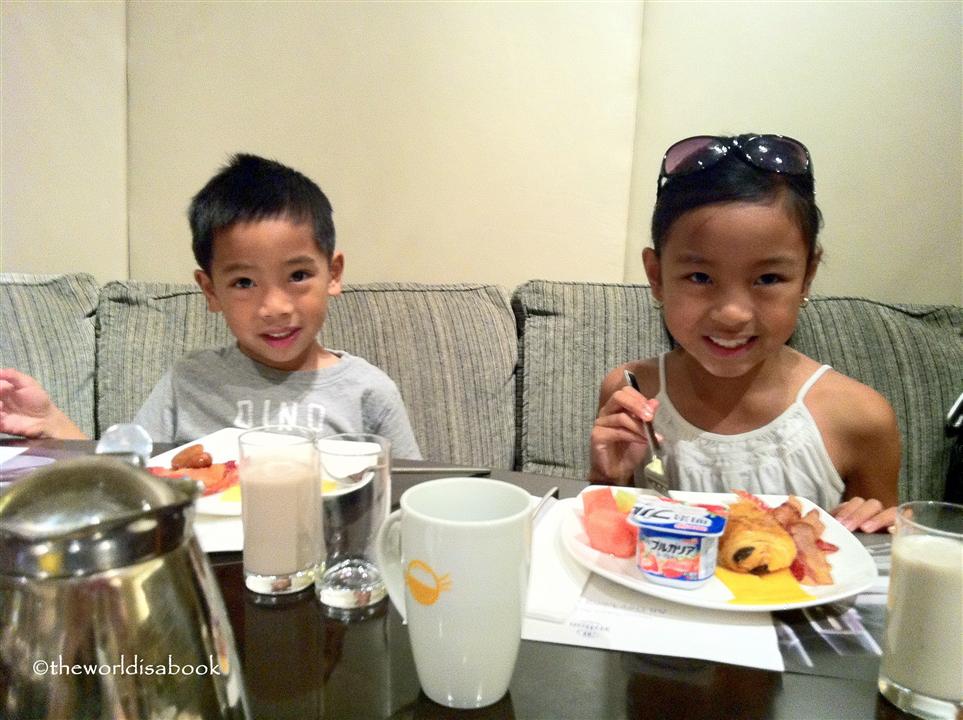 At our destinations, we usually order them something they're familiar with on a first meal. But we also let them try our food – at least a couple of bites – to give them a taste. Often times, they're willing to venture out and try something new during the next meal. Though, we've also tried to order these first time meals with a local twist. If in Italy, get a pasta they know but with a different local sauce. Any meat or chicken grilled or fried usually worked too.
Noodles are also a big hit with kids. My kids couldn't get enough of the assortment of noodles in Japan cooked in various ways. They wanted to try them because they looked familiar yet there was something different about them.
Something familiar doesn't always involve chain restaurants they can find at home like McDonalds. We've mostly tried to avoid restaurants we have at home. Although, we've visited our share of McDonald's in foreign countries for the curiosity factor – to see what local food they offer. The main reason though was that it has some of the cleaner, more easily available restrooms.
Routine
Generally, kids thrive on routines. It's important to set some sort of routine no matter what time zone you're visiting which helps them adjust better. Most of our eating patterns during a vacation day have been breakfast at the hotel or apartment we're staying at, or at a local pastry shop. It's a good thing our kids love visiting bakeries.
Sometimes lunch is on the go with a sandwich or at one of the stalls at the department store food halls and markets. But, we usually try to do a sit down dinner much like at home. It helps to visit family-friendly restaurants and eat at a time when many families will be around. Sometimes, kids are more open to trying new food when they see other kids eating them.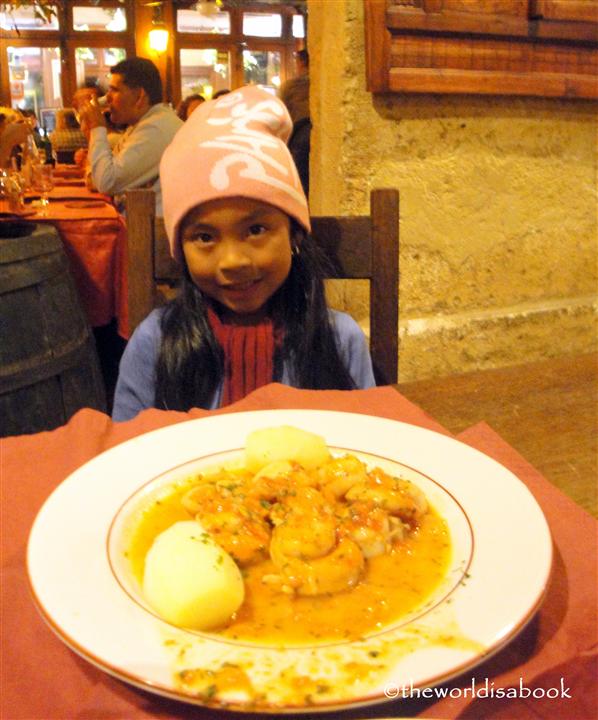 Our kids drink milk every night before bedtime. We've made sure to visit local grocery stores for this ritual. They actually enjoy choosing milk in different languages. One of the things we look forward to is visiting foreign supermarkets. We have fun looking at familiar snacks and treats in different packaging and languages. It's also a good place to see what kids their age are drinking or snacking on in that part of the world. As a result, they were more receptive to trying and buying them out of sheer interest.
Compromise
On some occasions, we've had to choose our battles. We're on vacation after all and they will eat when hungry. There were times when all they wanted to eat was cheese pizza or hamburger. We've learned to introduce new things one meal at a time – one day at a time. By trying something new, they could pick a dessert from the menu or at the grocery store.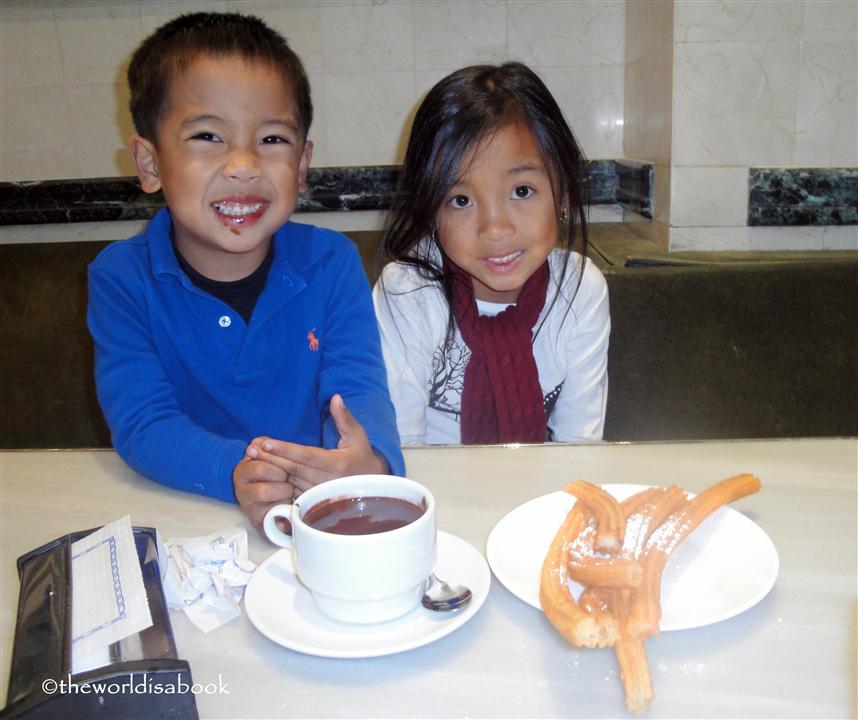 Some additional items we've learned along the way:
Rental homes or apartments are ideal for traveling families. It's usually easier and cheaper to cook some of your own meals if you have access to a kitchen – an option to eating out and feeding the kids.
Visit the street markets to buy fruits and vegetables as an alternative to the local supermarkets. Just be sure to eat those where the skin is not exposed and ones you can peel (i.e. banana, mango, oranges).
My husband and I loved street food before we had kids but have been a little wary of them with the kids. I hesitated to say not to ever try it until I remembered some of the best crepes we've had were from Paris street vendors. Over the last year, we've also been sampling a lot of the food trucks in Southern California which are probably the equivalent of street vendors elsewhere. Use your best judgment in eating from them.
Do your homework and research before the trip. Read up on restaurants that are kid friendly and clean. Read other family travelers' reviews and blogs for recommendations.
Visit a bakery or pastry shop. Bread can be a picky eater's friend.
Visit department store basement halls or markets for the energy, affordability and variety of food. They offer so many different types of food that will surely satisfy everyone in the family.
Take a picture of the kids trying out local foods and they can add it to their journal or photo album. It will remind them of what they have eaten and hopefully motivate them to keep trying new foods.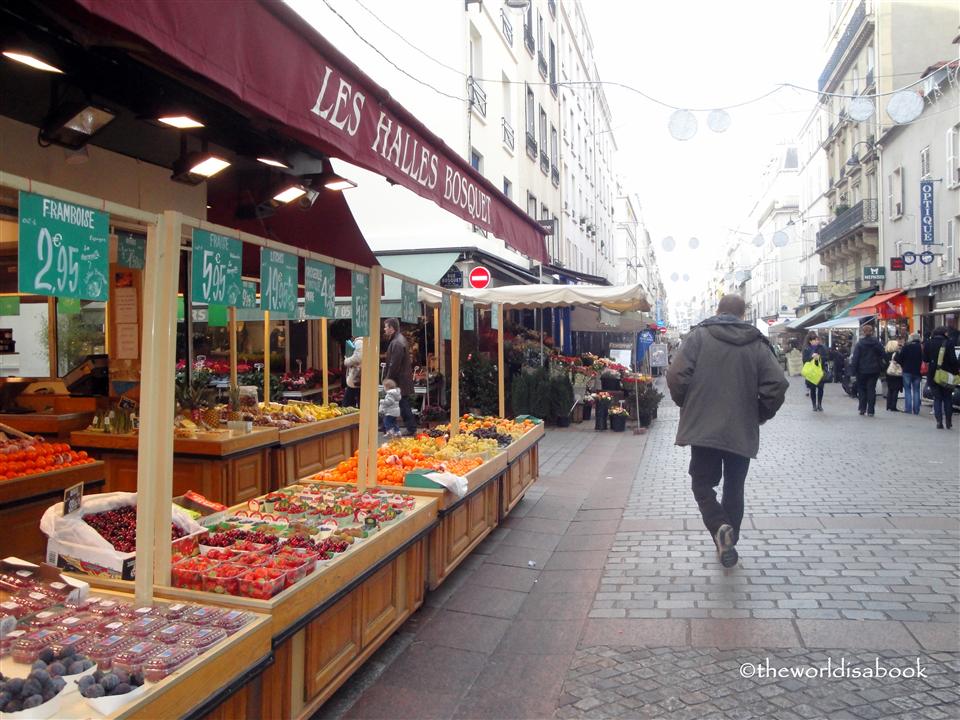 One of our food mantras with our kids is "you'll never know if you like it or not unless you try it" – something we learned from our parents. As a result, my kids found out they loved Spanish Jamon (ham) in Madrid, fancied crepes with various fillings in Paris, enjoyed a traditional Belizean chicken stew with rice and beans and only preferred the meat and rice portion of their bento boxes in Tokyo.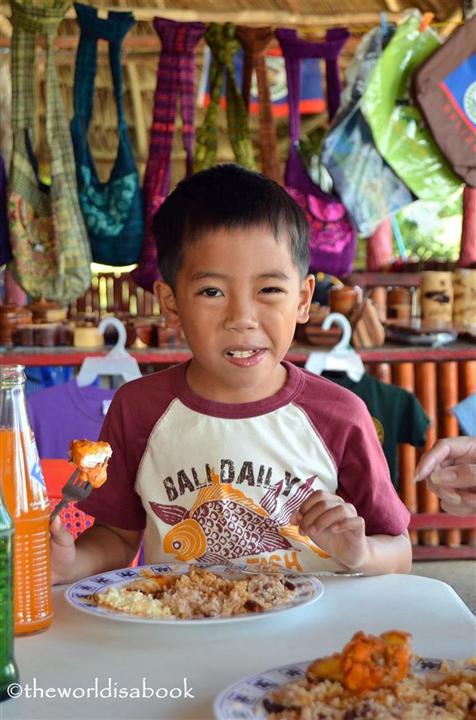 Whether you're blessed with the adventurous eater or the picky one, eating in a foreign place will definitely be an experience to learn something from. While the first trip is usually the hardest, traveling with kids though challenging is very rewarding. I hope your food adventures will be as fun and satisfying as ours have been. Bon appetit!
You can follow Mary at her blog The World is a Book, on Facebook, Google+, Pinterest and Twitter (@worldbooktravel)
This guest post is part of the series on Family Travel. Want to read more? Follow the 'Family' tag on this blog to view all posts in the Family Travel series. We have still some great interviews coming up.  If you want to contribute to this series just send me an email: emiel@actoftraveling.com